E-consultation and Web 2.0
From E-Consultation Guide
Compare these two sites:
A very traditional web site that,

puts on-line the paper-based process,
requires people to read long PDFs in sometimes difficult language
in most cases expects written replies on paper.

A story-collecting site that,

collects personal experiences of what it is to be an active citizen in Ireland,
used to build up a more subtle picture of today's citizens,
to include in a submission to the Taoiseach's Taskforce on Active Citizenship.
Collecting stories
The second is the Web 2.0 approach. It encourages ordinary people and workers to tell stories of what they think is important, rather than just answer the questions that officials worry about. Here we see reflective citizenship at its best.
To succeed, such approaches require:
Other examples:
Discussing issues
Once you have discussions on a site, people can explore problems and suggest solutions.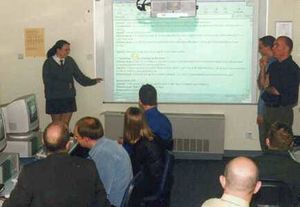 Mapping opinions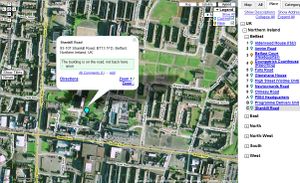 We tried comparing conventional consultation with a Google maps mash-up.
Collaborative writing
Many people can work together writing documents using Web 2.0 tools.
Wikiwiki sites
Log in, click on edit, write something in a box, save, and the page is updated.
The next person puts in another edit.
And so on until you get a consensus version.
But this doesn't work if people aren't willing to work towards a consensus.
Other group report writing software
More sophisticated tools can be used where there is conflict.